Pets are a part of the family
So why not bring them along to explore the 500 acres that The Ranch has to offer? Your furry companion will be treated to their very own plush dog bed, offerings from a specialized pet menu, and miles of hiking trails.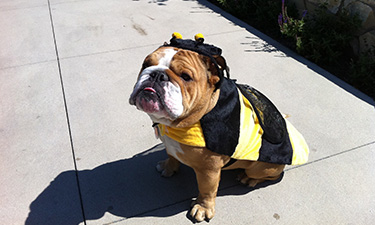 Roxy- our Ranch bulldog
The dog beds at The Ranch are covered with a Microfiber fabric that goes through a rigorous certification process. The filling is from pre-consumer recycled foam. The beds are cut, sewn and filled in Berkeley, California.
Roxy's Room Service Menu
Snacks -6-
Give a Dog a Bone

Beef Marrow Bone
Entrées -12-
Chicken and Rice

Sonoma County Natural Chicken, Organic Brown Rice, Fresh Garden Vegetables, Light Brown Chicken Broth

Pooch Patti

Naturally Raised Ground Beef, Whipped Potatoes, Garden Vegetables
Dessert -5-
Bacon Doggy Biscuit
To order, please call the concierge at Ext. 427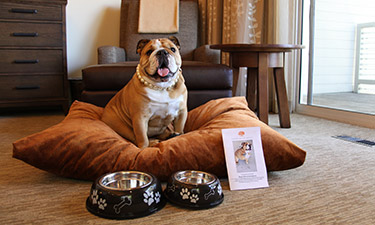 Roxy- our Ranch bulldog
Roxy's Rules
A non-refundable, one-time fee of $150 per pet will be charged to your suite
Pets must be leashed at all times while on property
Pets are restricted from the following areas of The Ranch: Clubhouse, Pool or Pool Area, River Ranch, Valley Kitchen, Spa, and Organic Garden
Owners must be present, or the pet removed from the room for housekeeping to freshen your suite