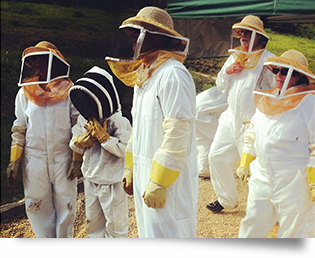 THE AMAZING WORLD OF BEES
90 minutes; $115 Adults, $75 Ages 6–12
Experience the ancient magic of beekeeping through the lens of Beekeeper Mariah McDonald and the Carmel Valley Ranch Bees! The Amazing World of Bees will delight the imagination and the senses as you experience beekeeping at its fullest. From hive science demonstrations to honey extractions, you'll learn the latest buzz about these important pollinators. Each class begins in the Organic Garden with a hive science discussion and demonstration, accompanied by refreshing honey-lavender lemonade. Then you'll suit up and head into the Apiary to learn how new hive installations draw connections between plants and herbs, pollen and pollinators. Finally, you'll taste honey from different hives, infused with the flavors of the herbs growing nearby.
email us
(831)626-2577
A 24-HOUR COURTESY POLICY APPLIES.
All bookings shall be considered confirmed. Please notify Guest Services of any cancellations. Bookings cancelled prior to final 24-hour period shall receive a full refund of registration fees. Cancellations within 24 hours of class time will receive a 50% refund of registration fees. Failure to attend without notification of cancellation will result in full payment. Thank you for your cooperation in this matter. ALL CLASSES AND PROGRAMS ARE SUBJECT TO CHANGE.